Pediatric Cardiac Critical Care Medicine Fellowship
The Pediatric Cardiac Critical Care Fellowship is based in the Division of Cardiology at Ann & Robert H. Lurie Children's Hospital of Chicago, an academic affiliate of Northwestern University Feinberg School of Medicine. This program has a rich history of training fellows in Cardiac Critical Care since 1998. This one-year fellowship has openings for two trainees each year. The ideal candidates will be board-certified in pediatrics and board-certified/eligible in pediatric cardiology or pediatric critical care medicine.
 Education
Educational opportunities will include an involved didactic series with topics dedicated to cardiac intensive care issues and an in-situ simulation-based curriculum to rehearse management strategies as well as teamwork and communication. We also conduct weekly professor rounds, which is a facilitated small-group discussion on an interesting CICU service patient. In addition, there are weekly cardiovascular surgery care conferences, visiting professors and opportunities to attend national meetings.
 Research
Participation in clinical research will be expected and supported. Clinical research interests of current CICU faculty are diverse and include bioinformatics, medical education and simulation, quality improvement and patient safety, perioperative clinical trials, quality of life, international health, neurodevelopmental outcomes and outcomes research in neonates with critical congenital heart disease.
 Clinical Experience
Training will include six to seven months on our cardiac ICU service. For those with a critical care background, time will also be spent on rotations, including cardiac imaging/echocardiography, cardiac catheterization, electrophysiology and heart failure/transplant. For those from a cardiology background, additional time will be spent in the PICU and with anesthesia. Fellows on either track will also have elective time to tailor focus in an area of their choosing.
 Requirements & Eligibility
Applicants must be board-certified in pediatrics through the American Board of Pediatrics and must be board-certified/eligible in either pediatric cardiology or pediatric critical care medicine. Hiring is contingent upon eligibility to work in the United States and obtain an Illinois medical license.
 Application Process
Applications are typically called for in the fall with interviews in the early winter and selection no later than spring.
Interested individuals should forward the following materials to the program director:
Letter of intent
Current curriculum vitae
Two letters of recommendation
Contact Us
Brittany Dixon
Fellowship Coordinator, Advanced Pediatric Cardiology Non-Invasive Imaging Fellowship
Fellowship Coordinator, Pediatric Cardiac Critical Care Fellowship
Fellowship Coordinator, Pediatric Heart Failure/Heart Transplantation Fellowship
Program Coordinator, Pediatric Cardiology Fellowship
Cardiology

312.227.5329
bdixon( at )luriechildrens.org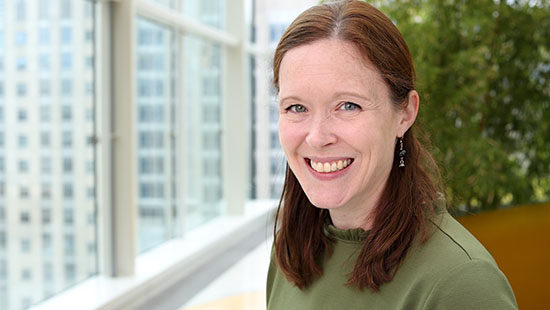 Mary McBride, MD, MEd
Program Director, Pediatric Cardiac Critical Care Fellowship
Associate Program Director, Pediatric Cardiology Fellowship
Associate Director, kidSTAR
Cardiology
mmcbride( at )luriechildrens.org
Dr. McBride is interested in the teamwork and communication in clinical crises. Joined kidSTAR in 2011.
Back to top