Our Place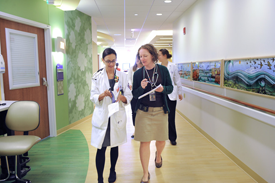 Our Pediatric Residency Program has the advantage of being based in a world-class city. The possibilities for leisure time in Chicago are endless. Our hospital's Streeterville neighborhood location is just steps from the Magnificent Mile shopping district, wonderful restaurants and theaters and Lake Michigan. 
The program's academic affiliation is with Northwestern University, an educational and research institution. The faculty of Northwestern University Feinberg School of Medicine provides clinical patient care through affiliated hospitals and practice plans. 
The program's home facility is Ann & Robert H. Lurie Children's Hospital of Chicago, Feinberg School of Medicine's affiliated hospital dedicated to pediatric care. Lurie Children's is Illinois' only freestanding hospital exclusively for children, offering patients access to world-class care in a modern, kid-friendly environment.
Residents also rotate in the newborn nursery at the neighboring Prentice Women's Hospital. 
For information on getting to Lurie Children's, parking and other site-related information, visit the hospital website. A visitor guide and other helpful links (including hotel information) can be found there.
Resident Life
Our pediatric residents are a social group and have numerous planned (and unplanned) activities when not working. Residents frequently get together to watch their favorite primetime TV shows, sample new cuisine, attend Chicago sporting events or play card games (often with faculty). During the summer, our senior residents host weekly Friday night barbeques for the new residents and their families. These events let residents get to know the housestaff and the city of Chicago in a fun, stress-free environment.
Throughout the rest of the year, our resident social committee organizes several fun and unique events for residents and their families. Past events have included:
Apple picking
Karaoke
Pumpkin carving contests
Bowling
Miniature golf outings
Whirly Ball (a Chicago-born sport played on bumper cars)
Chicago Cubs and White Sox baseball games
In addition, many of our residents play on intramural sports teams, such as soccer, volleyball and kickball, through the Chicago Sport and Social Club.
Winters can be long in Chicago, but residents can stay warm throughout the colder months with the help of an active social life. Every December, the program hosts its annual resident holiday party, which is the most anticipated night of the year. Attending physicians cover the hospital for the evening, and all residents are free to enjoy a night of dinner and dancing with their colleagues and friends. During Residency interview season, which runs November through January, the program hosts a happy hour on Tuesday and Thursday evenings to allow current residents and applicants to mingle in an informal fashion over food and drink. The intern class also shares an enjoyable annual retreat in the winter. It is a great chance to take a break and get better acquainted with new colleagues and friends away from patient care responsibilities.
Overall, the residency program's "Work Hard, Play Hard" philosophy characterizes the entire experience at Northwestern University and Lurie Children's. For more information on resident life, feel free to contact our chief residents.