Pediatric Critical Care Fellowship
The goal of the Pediatric Critical Care Medicine fellowship training program at Ann & Robert H. Lurie Children's Hospital of Chicago and Northwestern University's Feinberg School of Medicine is to provide comprehensive training to pediatricians in the scientific and clinical practice of pediatric critical care medicine. This training includes those elements that typify an accomplished and well-rounded practitioner, including medical knowledge, clinical skills, research skills, humanistic qualities, professionalism and a commitment to scholarship and life-long learning. We match four to five fellows each year in this three-year fellowship program (total compliment of 13 fellows). Current fellows come from top programs across the country and have a wide range of backgrounds and interests within critical care. 
 Education
New fellows participate in an orientation curriculum that includes local and regional "boot camp" learning through simulation. A comprehensive didactic curriculum is provided during weekly conferences. The content is guided by the content outline of the Critical Care Subboard of the American Board of Pediatrics and includes fundamental physiology and applications to the practice of critical care. Recurring conferences address administrative aspects of critical care practice, ethics, neurocritical care, cardiac critical care, case based physiology and morbidity and mortality. In addition, regular journal clubs and research updates by division members offer an opportunity to evaluate innovative therapies and examine proposed mechanisms of critical illness. An active simulation program through the kidSTAR simulation center provides realistic immersion in physiology and team dynamics.
A sample of the faculty taught core physiology didactic sessions scheduled during the summer/fall 2018 are listed below:
Pulmonary Ventilation/perfusion; Dr. Bone
Pulmonary gas exchange; Dr. Harris
Respiratory mechanics; Dr. Coates
Traumatic Brain Injury; Dr. Smith
Respiratory failure/ARDS; Dr. Paquette
Sepsis pathophysiology; Dr. Marsillio
Sepsis management; Dr. Wolfe
Cardiopulmonary Interactions; Dr. Epting
Oxygen delivery; Dr. McBride
Metabolism; Dr. Malakooti
Status Epilepticus; Dr. Hong
Acute Kidney Injury; Dr. Sanchez-Pinto
Pain and Sedation Basics; Dr. Derrington
ICU Nutrition; Dr. Roebuck
Water/Salt Homeostasis; Dr. Barhight
Asthma in the PICU; Dr. Derrington
Cardiac Pressure/volume relationship; Dr. Allen
 Research
The goal of the research experience is to provide fellows with the foundation for academic achievement through active participation in hypothesis-driven research under the supervision of an experienced mentor. Through completion of a scholarly project, fellows will demonstrate a basic understanding of the components of the scientific process, including analyzing medical literature, designing and implementing a study, data analysis and writing a manuscript. Fellows participate in a research curriculum taught through didactics, workshops, works-in-progress and formal research presentations.
Current and past fellows have pursued clinical, translational and basic science research, covering diverse topics such as energy estimation in critically illness, long-term outcomes of PICU patients and their families, microbiome, pharmacokinetics, causes and outcomes of cardiac dysfunction and medical education. Fellows are expected to present their work at a national meeting during the third year of fellowship. The faculty in the Division of Critical Care have a variety of research interests, including bioinformatics, ethics, patient and family experience, innovation, post-ICU outcomes, palliative care and inflammation. They often serve as mentors to the fellows.
 Clinical Experience
Our fellows care for patients in a 40-bed pediatric intensive care unit as well as a separate 44-bed pediatric cardiac care unit (CCU). The fellows are integral in the care of patients treated at Lurie Children's for a broad range of illnesses including level 1 traumas, solid organ and stem cell transplants, cardiothoracic surgery, otolaryngology and neurosurgery. Fellows develop the knowledge and leadership skills essential to becoming independent intensivists through clinical experiences such as direct patient care with multidisciplinary teams, directing medical control for the transport team and leading the code team. In addition to service time in the PICU and CICU, the fellows rotate in anesthesiology, the neurocritical care service and the interventional cardiac catheterization lab. Fellows are supervised in the PICU by a group of 18 critical care faculty members who provide 24/7 in-hospital coverage. In the CCU, fellows will work with faculty members who have training in both cardiology and critical care.
Clinical time is spread throughout the three years of fellowship training but is concentrated in the first and third years. The schedule is constructed to facilitate graduated autonomy and senior fellows work closely to supervise and support new fellows. Fellows do not take call during the week while on clinical service in the PICU to allow for continuity of patient care and team leadership. The night call schedule is designed to optimize continuity of research time during the second and third years of fellowship.
 Requirements & Eligibility
Applicants to the fellowship program should be certified by the American Board of Pediatrics in general pediatrics or in the process of completing an ACGME-accredited pediatrics residency program that will allow them to be board-eligible prior to starting fellowship.
 Application Process
Applicants must submit a CV, personal statement, three letters of recommendation, official medical school transcript and USMLE transcript. All documents should be transmitted through the ERAS system. Selection is completed through the NRMP fall pediatric subspecialty match. Fellowship interviews are conducted August to November of the year preceding the start of fellowship.
VISIT THE DIVISION OF CRITICAL CARE MEDICINE MEET OUR FELLOWS
Contact Us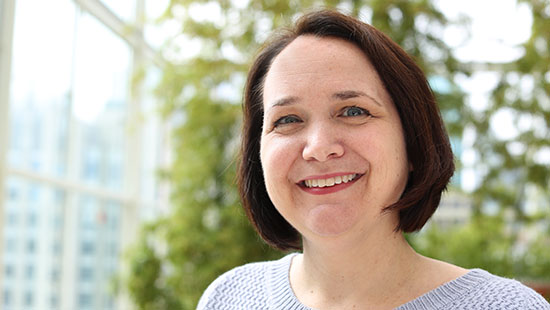 Meredith Bone, MD
Fellowship Program Director, Pediatric Critical Care Medicine Fellowship
Critical Care
MBone( at )luriechildrens.org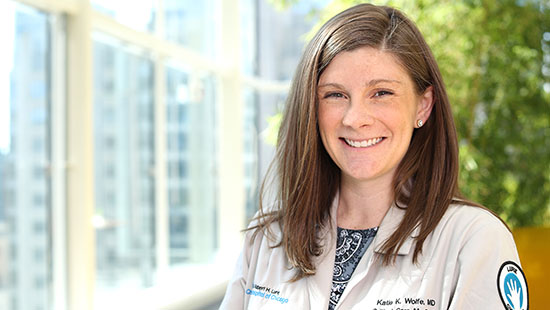 Katie Wolfe, MD
Associate Fellowship Program Director, Pediatric Critical Care Medicine Fellowship
Critical Care
KWolfe( at )luriechildrens.org
John Norris
Fellowship Coordinator, Pediatric Critical Care Medicine Fellowship
Critical Care

312-227-1614
jnorris( at )luriechildrens.org
Back to top