Meet the Fellows
Current Fellows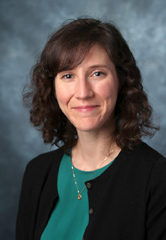 Hannah P. Lust, MD (2022-2023)
Program: Stem Cell Transplantation
Undergraduate: Brandeis University, Waltham, MA (BS: Health Science, Society, & Policy)
Medical School: The University of Texas Southwestern Medical School, TX
Residency: University of Michigan, Ann Arbor, MI (Internal Medicine-Pediatrics)
Fellowship: Hematology, Oncology, and Stem Cell Transplant, Ann & Robert H. Lurie Children's Hospital of Chicago, Chicago, IL
Read Bio
What drew you to this field?
I appreciate the opportunity to connect with patients and their families on a deep and meaningful level.  It is a very unique experience to be able to care for patients from the time of their oncologic diagnosis through treatment and complications along the way.  I also love that hematology & oncology both offer chances to continue to practice pediatric medicine more broadly, given the complications that come with many of the diagnoses in this field.
What are your clinical interests?  How did you become interested in this area?
I am primarily interested in hematologic malignancies and stem cell transplant/cellular therapies.  I've been drawn to these areas due to the underlying biology and interactions with the immune system.  I'm also interested in oncologic care in the adolescent & young adult population, as well as late effects of cancer treatment, which stems from my med-peds background.
Why did you choose Lurie?
I love the feeling of community within our division.  Even just on interview day I got the sense that this is a very supportive environment.  I also love that we care for a broad range of challenging and unique diagnoses – there's always something new to learn!
What do you do for fun or to relax?
I love to spend time outdoors, cook and bake (and eat), and try new restaurants.  I also love to travel and explore new places!
What do you love most about Chicago?
I love being so close to the lake!  It's beautiful to look at and provides lots of fun activities – boating, kayaking, running/biking along the lakefront trail.  I also enjoy exploring different Chicago neighborhoods…and all those fun new restaurants!
What advice would you give a resident thinking of entering the field?
Try to spend time in both the inpatient and outpatient settings of pediatric heme/onc, as the experiences can be very different and offer a broader glimpse of what we do from day to day.  I would also recommend attending conferences both at your home institution and nationally (virtually if needed!) to get a better sense of a wide range of clinic interests and opportunities within the field – it's not all anemia and leukemia!  There are lots of different possible career paths and area of focus within peds heme/onc that you might not encounter first hand in the clinic or on the wards.